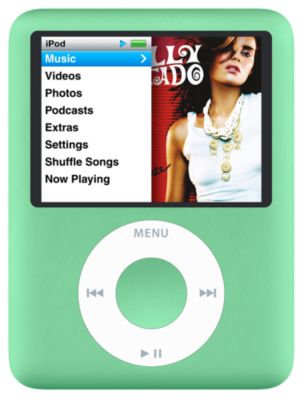 How silly is this? I am upgrading to an iPod Nano from the behemoth I've carried for four or so years, and my biggest consideration was not price. It was not size. It was color. Very soon, a lovely iPod like the one you see on right will be the finishing touch on my running & cycling gear. (The color in the photo is actually slightly more intense than the real thing.)
Why was the green important? Because it goes beautifully with my road bike. The minty green paint which accents my Bloo, along with the tape & saddle.
I feel like such a dork.
Anyway, the bright display will be delightful; no more squinting with the b/w contrast at full on my 2g. Lightweight, so I won't have to worry about the waistband on my running skirts slipping. Yea!